"The energy and commitment to humanity that emanate from this program is palpable. I have not met any of the other students, but I feel connected to them in a way that I never thought an online program could accomplish. I understand –in fact, I feel–the issues of immigration advocacy so much more deeply than I expected to. I expected legal training; I got something much, much bigger.
I got a whole new way to look at the world."
– Eileen Doherty-Sil
VIISTA Pilot Student
Organizations have been turning to tech innovations to create a new generation of tools to build agency, knowledge, and community for immigrants in the United States. Tech tools help overcome physical separation imposed by the immigration system and help bring legal knowledge closer to people. Tech innovations can deliver resources and legal information, essential portals to knowing the law. They can also be places of emotional support and solidarity, despite geographic separation, that are necessary to effectively use the law. When co-developed with immigrant communities, they can widen the scope and impact of legal empowerment work.
Technology is not a cure all, and with the rise of the information age new and challenging questions emerge around data security, the right to privacy, and equitable access to the internet. Organizations are thoughtfully responding to these new challenges as they develop tools that allow immigrants to exercise greater agency and overcome the physical separation and emotional isolation caused by the United States immigration system. Privacy, security, and access need to be integrated into strategies from the beginning so that immigrants do not face further hurdles by accessing technology tools.

Finding emotional connection and solidarity can be difficult when the immigration system separates you from your family and community. Digital spaces can become a place for communities and families to reconnect and practice the solidarity they provided before physical separation. They can also serve as a practical way to end physical separation by providing wide access to people you are looking for, regardless of geographic location.
Catholic Legal Immigation Network Inc. (CLINIC)
CLINIC has brought community organizing, accompaniment, and movement building online through the creation of online Facebook groups for immigrants. CLINIC currently maintains two facebook groups; one for families that were separated by United States immigration policies and one for formerly detained women with children.
CLINIC manages publicity and security of the groups based on the needs of the community that they help to bring together. For the formerly detained mothers, the main goal of the group is to share resources and build a community of knowledge based on experiences. The group is kept private to help protect women and their families from further detention or from being tracked by abusive partners. The other group for separated families serves as a place to find lost loved ones and get reconnected to organizations and support networks that people became disconnected from. It is publicly accessible to reach a wide range of people who may have become disconnected from loved ones. With each model, the platform acts as a space to practice community, solidarity, and information sharing.
From posting pro se tutorials on platforms like YouTube and partnering with rideshare apps like Lyft to physically connect immigrants and their attorneys, CLINIC is constantly innovating. Tech tools can be wielded with responsibility and used to empower immigrants.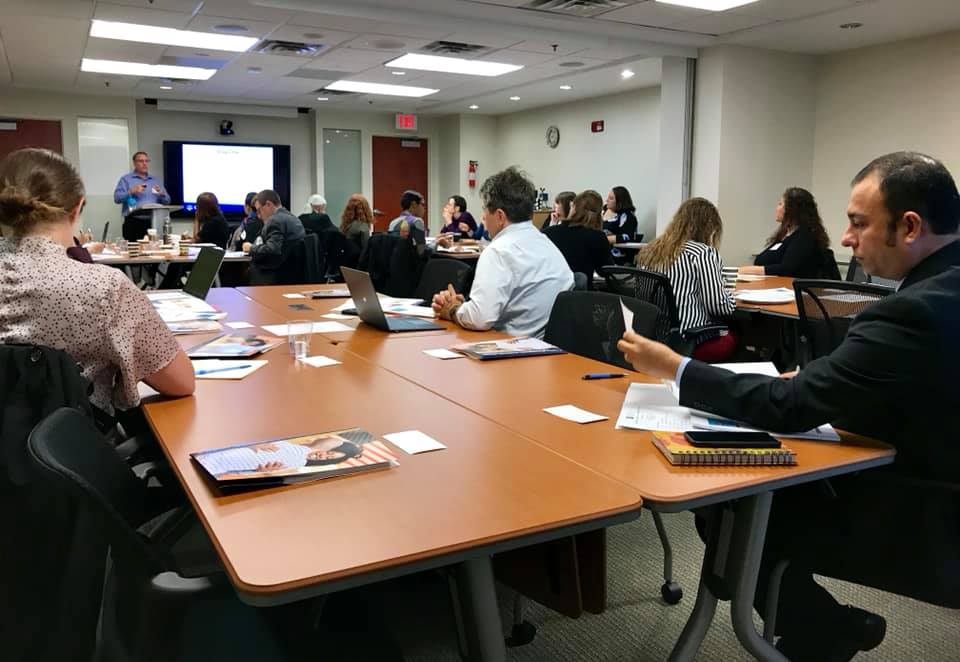 VIISTA is an innovative certificate program that trains non-lawyers to become Department of Justice accredited representatives. It aims to democratize information and expand the ecosystem of people engaged in immigration justice.
VIISTA is hosted completely online and accessible from anywhere in the world. Its format allows people to access the program at times that are convenient for their schedule and at a pace that fits well with their other obligations. VIISTA is set up in 3 modules. Completing the first 2 modules fulfills the requirements for partial accreditation from the Department of Justice and finishing all 3 modules prepares students for full accreditation. By establishing the program as separate modules, students have greater flexibility to learn only the information that they need for their desired accreditation level.
VIISTA continues to grow and innovate and aims to use the best available software and infrastructure to provide a seamless, effective program to get immigrant advocates accredited and into the immigration system defending the rights of their communities.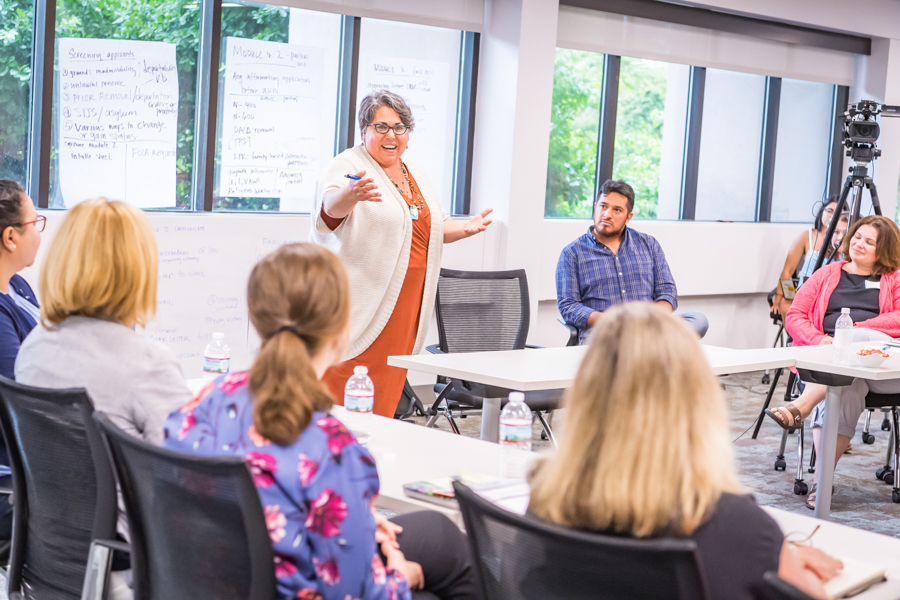 Innovation Law Lab merges coders, communities and lawyers to create tools which open access to justice for immigrants. One such tool is Immigration Court Watch. This online tool offers a platform to record observations made in immigration court and compare them to observations made across the country. Volunteers are trained by Law Lab team members on the Immigration Court Watch tool – a platform which educates volunteers about the laws governing immigration court, the history of those laws, and the processes that they observe on a daily basis. It also encourages court observers across the country to share their expertise and knowledge with court watch teams in other jurisdictions.
Most people agree that the immigration court system is broken, regardless of political affiliation. Often, that claim is followed by speculation and scapegoating. Immigration Court Watch empowers communities to name the ways in which the system fails, and to hold Immigration Courts across the US accountable for providing access to real justice. For decades, the fight to promote real justice in immigration courts has fallen on the most affected communities and a handful of fierce advocates and allies. Court Watch helps expand, coordinate, and disseminate the important observation work being done around the country.
Immigration Advocates Network (IAN)
Immigration Advocates Network develops digital tools that leverage modern technology to advance immigrants' rights. One of their main projects is Immi, a website which empowers immigrants in the U.S. to understand their legal options and access critical resources. Immi includes a user-friendly, plain language "quiz" that connects people resources specific to their individual needs.
Immi was created for pro se immigrants – those who navigate the immigration system without an attorney. It centers immigrants themselves with design updates based on user-testing and feedback. Through Immi, people can learn about immigration status, access a directory of over 1,000 non-profit legal organizations, stay up to date with changes to immigration law, and make a plan in case of an encounter with the U.S. Immigration and Customs Enforcement (ICE).
Citizenshipworks is a platform which guides immigrants through the citizenship application. IAN also works with local organizations and advocates to hone their tools and platforms for specific communities. Iterated from Immi, Women Step Forward, was developed for the National Domestic Workers Alliance (NDWA) which focuses on the needs of immigrant women.
Tools developed by IAN are scalable to reach many people. Since 2016, Immi has helped over 180,000 people know their rights, identify a form of relief, make a plan, and connect with trusted legal assistance.


Joel (name changed to protect his privacy) had been separated from his child and detained soon after crossing the border. Joel was part of CLINIC's list of individuals who needed a change of venue urgently. Even though he lives in Tennessee and provided the U.S. Immigraiton and Customs Enforcement (ICE) with that address prior to his release, ICE used the shelter address in El Paso to venue his removal proceedings, and so he has a hearing in El Paso next week. A local attorney had been arranged to accompany him to his first check in with ICE in Tennessee, but the attorney was not able to locate Joel with the information they had for Joel.
Joel independently joined the Facebook group for separated families maintained by CLINIC, after hearing about it from a friend with whom he had been previously detained. Through the group, he was able to connect with his local attorney and move forward with his change of venue. The online group helped transform a single in-person connection into a gateway to legal resources and support.
Eileen Doherty-Sil, a pilot student with VIISTA shared that, "the energy and commitment to humanity that emanate from this program is palpable. I have not met any of the other students, but I feel connected to them in a way that I never thought an online program could accomplish. I understand – in fact, I feel – the issues of immigration advocacy so much more deeply than I expected to. I expected legal training; I got something much, much bigger. I got a whole new way to look at the world."

Adriana Cazorla was an undocumented domestic worker who survived domestic violence at the hands of her ex-husband. She is now an advocate with the National Domestic Workers Alliance which co-creates the project Women Step Forward with IAN. About the project she says, "We're fighting against domestic violence and to make sure that immigrant women, particularly who are living in the shadows because of their immigration status, know that they're not alone. We're with them, and we're fighting to stop this cycle of victim-hood and to win stronger rights for all of us." Women Step Forward, Immi, and Citiznshipworks all provide points of connection and information for thousands of immigrants across the United States.