NYC
Mayor's Office
of
Immigrant Affairs
Community Paralegals
MOIA trains Community Navigators and supports the Rapid Response Legal Collaborative – programs which train community members to become first responders and offer legal and social support to their communities.
Conveners
MOIA established ActionNYC which serves as an entry point into immigration services for many New Yorkers.
Know Your Rights Programs
MOIA delivers educational and accessible curricula to promote civic engagement through its community partners.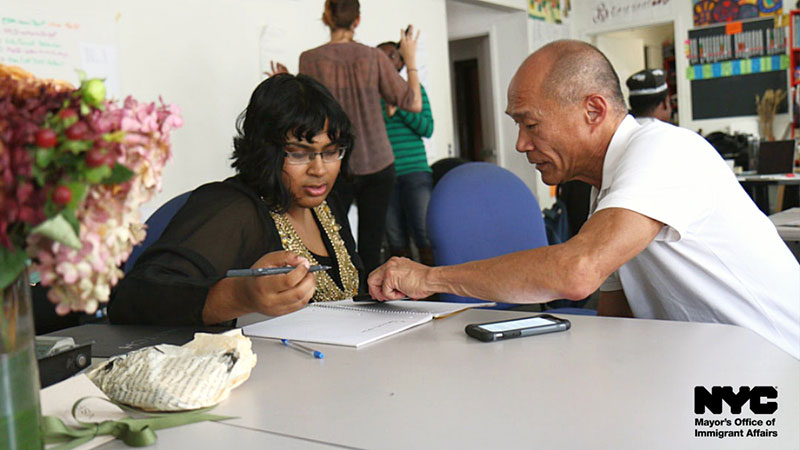 The New York City Mayor's Office of Immigrant Affairs (MOIA), of the New York City government, is the country's first chartered office dedicated to serving immigrants and is currently led by Commissioner Bitta Mostofi, appointed by Mayor Bill de Blasio in May 2018. Under the de Blasio administration, MOIA has prioritized three goals: 1) enhancing the economic, civic, and social integration of immigrant New Yorkers, 2) facilitating access to justice for immigrant New Yorkers, and 3) advocating for continued immigration reforms at all levels of government.
MOIA seeks to empower the immigrants it works with by providing culturally and linguistically responsive services, and to build the capacity of its community-based partners. MOIA's work includes the promotion and support of immigration legal services done in partnership with its community partners. The de Blasio administration has invested over $30 million in a range of immigration legal services, unprecedented on the local level. In addition to the provision of legal services, MOIA runs a robust Know Your Rights program, funds the Rapid Response Legal Collaborative, coordinates Immigrant Information Desks that provide referrals to a wide range of services, and manages the IDNYC program, New York City's free government-issued identification card for all New Yorkers that can be used to access city services, affordable health care, and cultural offerings across the five boroughs.
Este sitio web es un proyecto de la Red de Inmigración y Empoderamiento Jurídico, la cual ha sido convocada por el Instituto Bernstein para los Derechos Humanos y la Clínica de Justicia Global de la Escuela de Derecho de la Universidad de Nueva York. El sitio web forma parte de una iniciativa que busca documentar y hacer visible el gran impacto que tienen los programas de empoderamiento que promueven los derechos de solicitantes de asilo, refugiadxs e inmigrantes en Estados Unidos. Para obtener más información, o para unirse a la red, escribir a: law.bernstein-institute@nyu.edu.