"Non-attorneys, many of whom are community members themselves, represent immigrants through the accreditation program. This is empowering."
– Michele Mendez
Director of CLINIC
Around the world, thousands of community paralegals work directly with impacted individuals to serve as a bridge to the justice system. Community paralegals are not attorneys, and are often called "barefoot lawyers" or "legal workers." Many come from the communities they serve, and increase access to justice through collective empowerment and problem solving. The community paralegal movement started in South Africa in the 1950s during the apartheid era, and today plays an important role promoting rights and access to the law in countries around the world. 
The term community paralegal is less common in the U.S. However, with a variety of titles, community paralegals play an important role in supporting immigrants to access the justice system. Community paralegals–or community navigators, legal workers, and, in many cases, organizers with legal knowledge–engage in a range of activities, including rights education and monitoring, documentation preparation, counseling, and advocacy. They often work with lawyers to help translate laws and policies into a language that everyday people can understand. Training of community paralegals generally covers law, policies, and behavioral skills, and is delivered in a culturally appropriate manner. Namati, an international organization dedicated to legal empowerment, has developed resources for those interested in creating community paralegal programs.
In the United States, community paralegals are emerging. These programs help immigrants navigate a complicated system by empowering individuals to know and use existing laws and policies to fight for their right to remain. For example, organizations employ "community navigators," individuals who live and work in neighborhoods with high immigrant populations who serve as legal first responders, assessing the immigration needs of those in their community, providing key information—all the more essential as immigration law and policy continues to change—and connecting immigrants with legal and social services. 
Some immigrant rights organizations train nonlawyers, including those from immigrant communities, to become "Accredited Representatives."  The Department of Justice Recognition and Accreditation program trains nonlawyers to represent people in immigration proceedings, aiming "to increase the availability of competent immigration legal representation for low-income and indigent persons." Accredited Representatives must be based at organizations that have received the necessary recognition to host them. While the program is not, by definition, a community paralegal model, in many cases, Accredited Representatives are community members themselves and become empowered through the accreditation process.
Immigrants in the United States lack access to the legal, emotional, and social support they need to navigate the immigration system. Due to the limited number of competent low cost and pro bono attorneys available, thousands of immigrants go without any legal assistance. Further, those who attain an attorney may be limited to a client-service provider relationship. The legal profession may not advocate for client empowerment, where skills and knowledge are transferred to clients so that they can make educated decisions about their lives. Additionally, attorneys rarely hail from the communities they represent, and language and cultural barriers may limit client empowerment.
NYC Mayor's Office of Immigrants Affairs (MOIA)
ActionNYC offers free, reputable immigration legal support to immigrants in New York City's five boroughs through a network of community-based organizations and schools. While ActionNYC offers a range of important programs, the Community Navigators and the Rapid Response Collaborative empower community members to become advocates in support of an individual's right to remain. 
Community Navigators are staff members at community-based organizations across New York City. Community Navigators conduct community outreach and connect community members to legal and social support. Many of the navigators become Accredited Representatives, and can then represent immigrants in court. Similar to "promotoras" in the community health space, community navigators promote justice and education in their communities.  Community Navigators receive training on immigration law, how to conduct know your rights workshops, immigrant application assistance, and advocacy and leadership skills. With this training, Community Navigators are able to screen community members for potential legal issues, accompany community members to government offices, and assist in the preparation of forms and applications. Community Navigators encourage immigrant communities to know their rights and to take advantage of the legal and social services that MOIA offers. 
ActionNYC and the New York State Office for New Americans (ONA) fund the Rapid Response Legal Collaborative. The Rapid Response Legal Collaborative is a coalition of three organizations: Make the Road NY, New York Legal Assistance Group (NYLAG), and UnLocal. The collaborative provides legal assistance to individuals detained or under the urgent threat of deportation, relying on community organizers who act as first responders and help community members navigate the system. The community organizers provide community-centered resources such as a raids intake tool and an FAQ that provides key information on what to do after a family member is detained. Community organizers also lead know your rights workshops  and provide emergency support to families impacted by detention, including support in reasonable fear interviews and organizing in the context of bond.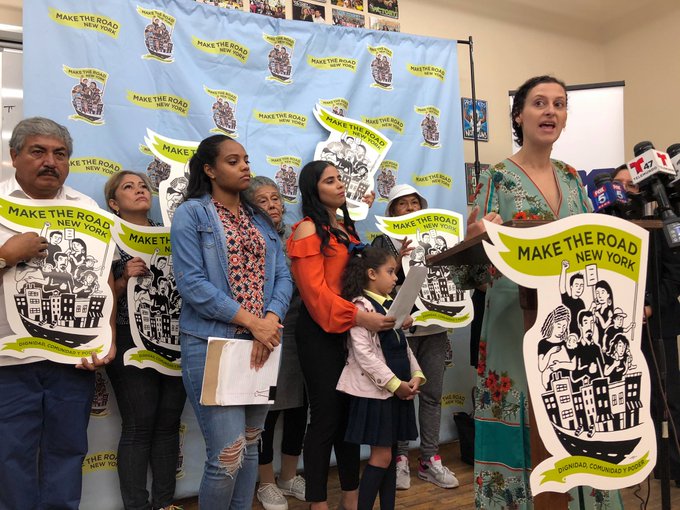 Catholic Legal Immigration Network, Inc. (CLINIC)
CLINIC trains and supports nonlawyers to become partial and fully accredited representatives, to advocate for people in  immigration court and/or before the Department of Homeland Security (DHS). 
CLINIC's program targets those already working within immigrant communities, and provides trainings and webinars for non-lawyers to become accredited representatives. Many of these representatives hail from affected communities and possess a deep understanding of local needs, context, and culture. CLINIC also provides continued support and mentoring to the representatives—an essential resource in navigating the complex and ever-changing immigration law landscape.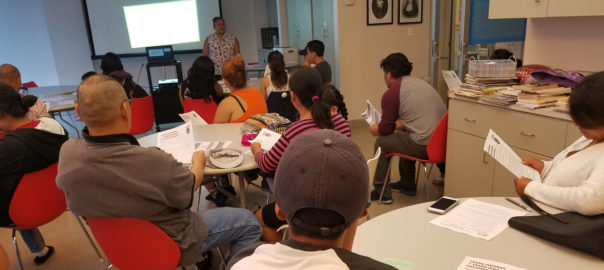 VIISTA is a three-module online certificate program that trains immigrant advocates to become Department of Justice accredited representatives. It is the first university-based program of its kind. From the beginning, VIISTA was developed in consultation with directly impacted communities. Consultations also included current accredited representatives and immigration judges. These experiences were integral to the development of the curriculum and informed the topics and skills taught in the program. 
VIISTA increases access to justice and lowers barriers for entry into immigration advocacy; the cost is significantly lower than a law degree and the entire 3-module program can be completed in 18 months. Its online nature makes it accessible to anyone with a computer and internet connection. 
The curriculum is holistic. VIISTA teaches immigration from various perspectives and includes all the topics needed to become effective immigrant advocates, such as interviewing, how to work with an interpreter, how to work with migrant children, factors that push people to migrate, provision of trauma-informed care, trial advocacy, and immigration law. The needs and agency of migrants and refugees are central to every part of the program.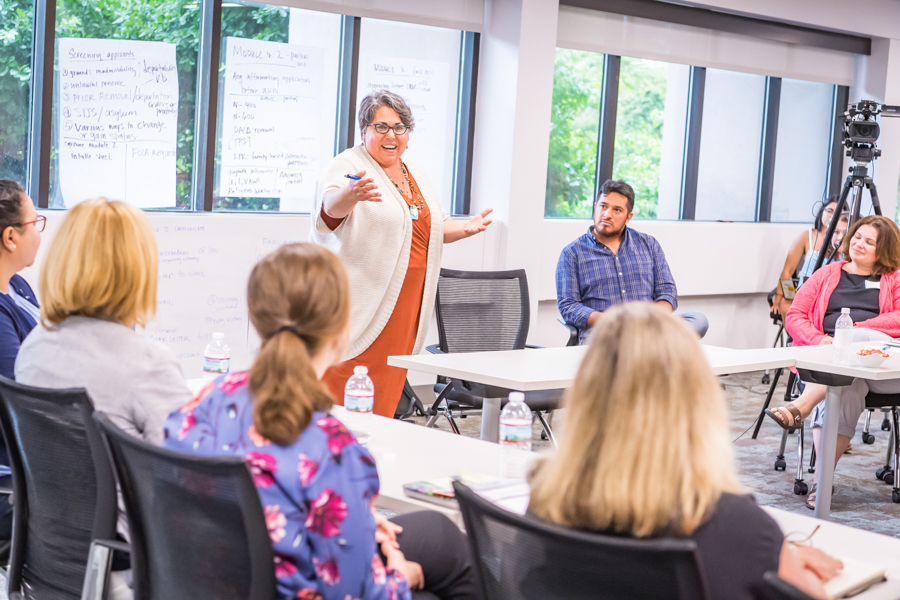 Originally launched in 2018, Equity Corps of Oregon was created in response to the crisis of mass deportation and incarceration facing immigrant families. The goal of Equity Corps is universal representation for immigrants in Oregon. To achieve this goal, Innovation Law Lab trained 150 community navigators, working out of 57 community-based organizations throughout Oregon. Navigators receive training on screening legal immigration cases and use Innovation Law Lab's online navigators portal to submit cases for further legal review by Equity Corp's direct service attorneys. Navigators submitted 464 navigations for review, 85% of which were eligible and accepted into the program. Achievement of universal representation in Oregon was bolstered by funding received from the state in 2019. Equity Corps is the first statewide universal representation program of its kind in the country with hundreds of immigrants receiving legal advice and support through the program.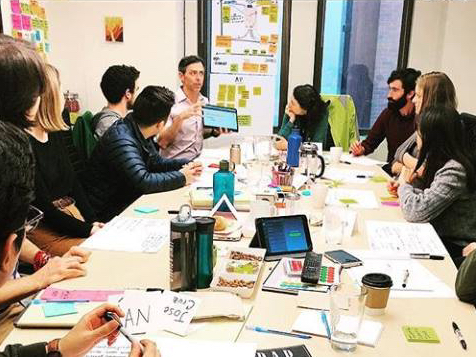 Avila is an example of the power of CLINIC's Accreditation program. Avila began her journey in the United States as a refugee from Cuba, and is now a citizen and accredited representative. After nearly 20 years of volunteering with immigrants, she received training and support from CLINIC to become accredited. Avila described her experience representing someone for the first time: "His family was worried sick about him. I will admit that I was petrified as I considered representing him, but I knew that the only way to go from the theory into the practice was to just do it." Avila persuaded the judge in this case to grant a bond of $3,000 instead of the $30,000 amount originally set. With her assistance, the father was able to return home to his children. Avila herself felt empowered by executing her training and seeing the impact of her own abilities.
When Maria, a leading environmental activist in her home community, opposed the interests of a powerful multinational corporation aligned with her local government, Maria was arrested and harmed by the police. In fear for her life, she fled to the United States to seek safety. Once in Oregon, she met an Equity Corps community navigator at her church. The community navigator connected Maria to Innovation Law Lab's online navigator portal. An Equity Corps attorney was then able to complete Maria's asylum application, provide legal assistance throughout the duration of her case; and, most importantly, represent her at her merits hearing before the Portland Immigration Court. Maria was granted asylum and now hopes to bring her children to live safely with her in the United States.