"You feel safe when someone is there with you."
– Anonymous "Friend" (immigrant seeking services)
New Sanctuary Coalition
Accompaniment programs promote the rights and dignity of immigrants and challenge power dynamics in immigration decision-making spaces. They provide emotional and physical solidarity to those navigating the system, and signal to the government that immigrant allies are watching. Volunteers regularly accompany immigrants or their family members to immigration court, Immigration and Customs Enforcement (ICE) check-ins, civil and criminal court, as well as to schools, hospitals, and other places. Accompaniments provide a space for volunteers and family members to journey alongside immigrants as they navigate a complicated, often terrorizing system. While Accompaniment programs differ in approach based on regional context and community needs, they help create a safe and supportive environment and often provide training and advice, supporting immigrants to best advocate for their rights.  
Accompaniment programs often train volunteers on the basics of immigration law and provide volunteers with an opportunity to bear witness to the injustice and the dehumanization of the U.S. immigration system firsthand. The volunteers act as watchdogs, who aim to hold the system accountable. While the impact is difficult to measure, it is likely that Accompaniment programs contribute to favorable case outcomes such as grants of parole, reduced bond fees, decisions not to detain an individual, and even decisions not to deport an individual.
The U.S. immigration system is hostile; it turns human beings into "A numbers," considers their existence to be illegal, and requires them to relive past trauma in order to fit within a narrow legal category. The legal code is complicated and convoluted, and the stunning lack of uniformity in the way in which it is applied to individual cases means that decisions are often arbitrary. "In essence, we're doing death penalty cases in a traffic court setting," said Immigration Court Judge Dana Leigh Marks.
One of Grassroots Leadership's core strategies is accompanying impacted community members through the immigration and criminal justice systems. They believe that solidarity means showing up and walking alongside community members.  
With their weekly Court Watch program, a team of volunteers and staff accompany Grassroots Leadership members to criminal and civil court. Grassroots Leadership provides basic training to volunteers to prepare them to serve as watchdogs. Volunteers learn key elements of the immigration process and crimmigration–how the criminal system affects the immigration system, and vice versa. Through Court Watch, Grassroots Leadership seeks to hold judges and attorneys accountable. Volunteers monitor individual cases: they document wait times and community members' interactions with government officials including judges, as well as with individual counsel. 
Grassroots Leadership also recruits volunteers to visit people detained in immigration facilities in the greater Austin area.  Spanish speaking volunteers visit people who have recently arrived as well as those who have been detained for many months. The volunteers are prohibited from taking anything inside the facilities, including pen and paper. However, volunteers do the best they can to  learn about the individual's case and to report basic facts to Grassroots Leadership Staff. Volunteers connect the detained to the outside world, listen to the experiences of being inside as well as the route that led them there, and, at times, support the detained to seek counsel and create a plan to seek release and freedom.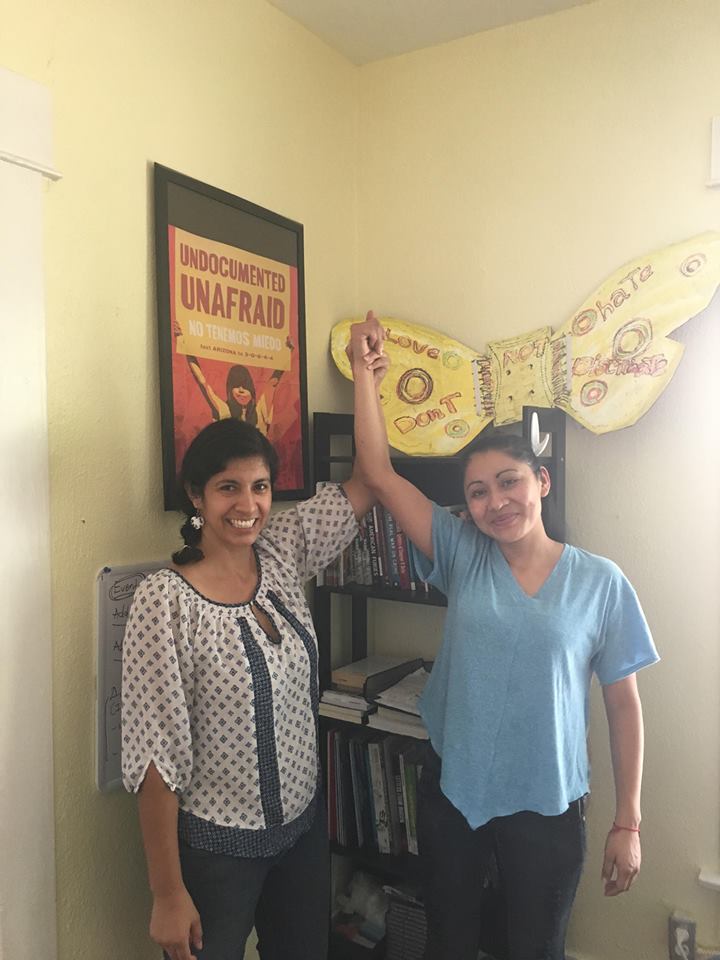 Organized Communities Against Deportations (OCAD)
OCAD coordinates accompaniments at their asambleas. Asambleas provide a space for those affected by deportation to discuss the injustices present in the immigration and criminal justice system and organize for change. The accompaniments are organized through social media, phone calls, and contact with their volunteer listserv. Accompaniers receive training on court observation, including a discussion on the goals of the program and practical tips to consider when entering immigration court. The accompaniments strive to build community and bear witness to the injustice within the immigration system. As OCAD member and community organizer Antonio Gutierrez explained, "This is meant to get away from the model of service delivery and to really create a sense of support and community."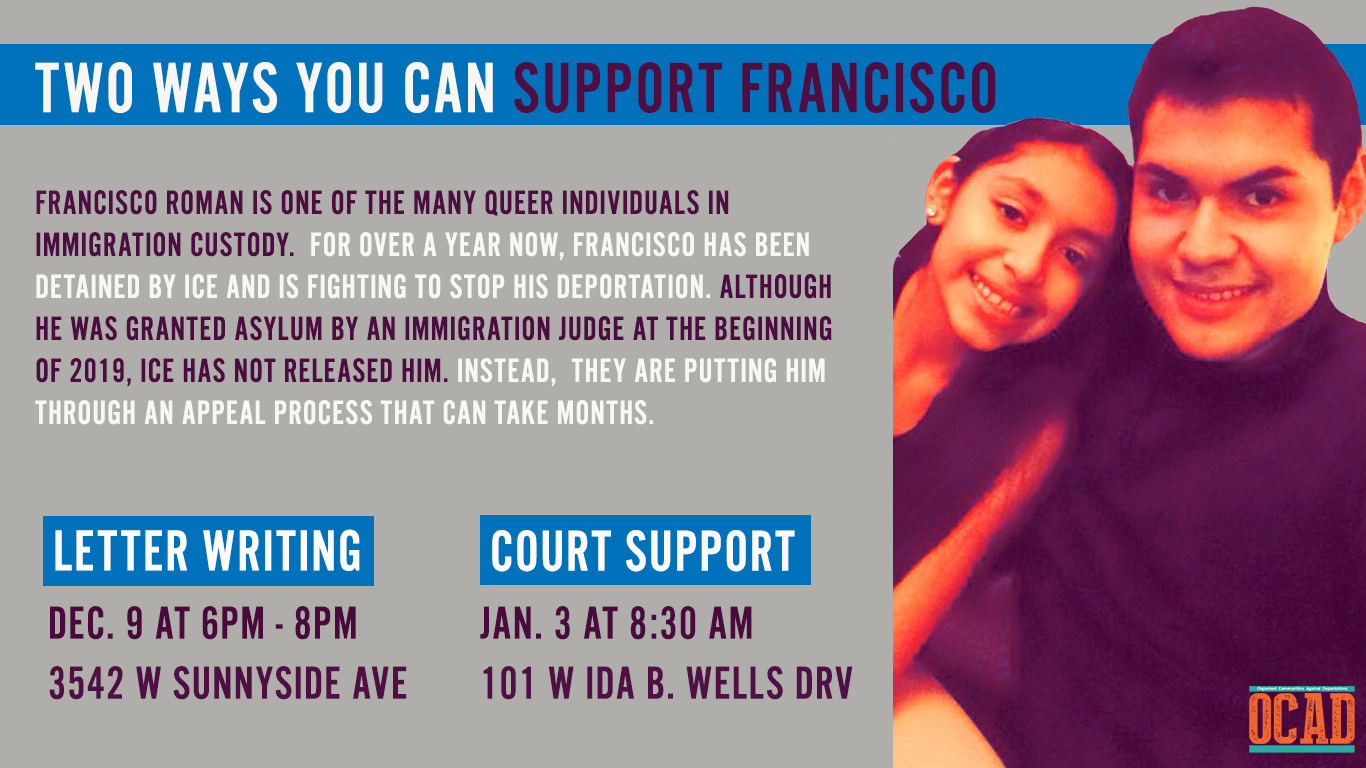 New Sanctuary Coalition (NSC)
NSC viewed accompaniment as a way to extend sanctuary into the halls of the immigration system. The program grew tremendously since 2016, with an average of 80+ accompaniments a week across New York City and the surrounding areas.  NSC recruited and trained volunteers to accompany people facing deportation and those affirmatively asserting their right to remain. 
Accompaniment training covered the historical and political context of the immigration system, NSC core principles, and strategies for allyship. After training, volunteers could sign up via a newsletter sent multiple times per week to accompany a Friend –an immigrant who seeks services at NSC— to ICE check-ins, immigration court, and for support outside the immigration system, for example a job interview or a doctor's visit.  Each accompaniment was led by an Accompaniment Leader, an experienced volunteer who coordinates the team of volunteers. Volunteers with Spanish and other language fluency as well as NSC staff served as points of contact with Friends.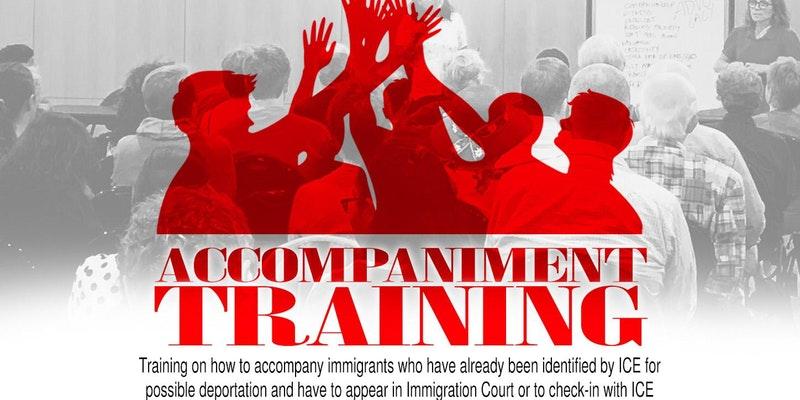 Standing in solidarity with immigrants facing deportation can provide comfort and strength. It may also impact an immigrant's choice to attend a given hearing or check-in.  Immigrants who have been accompanied describe how they "feel more confident" and "could not have done it alone." Accompaniment also demonstrates to immigration judges, ICE officers, and other government officials that there is a community watching. Although the impact of Accompaniment programs is hard to measure–many factors contribute to each immigration adjudication–it is likely that eyes on the system lead to reduced bond fees, grants of parole, decisions not to detain an individual, and even avert deportations.
Participating in accompaniments for many volunteers is an act of solidarity. It makes visible the rampant bureaucratic violence within the immigration system, and encourages a growing community of allies to push for change.
"I

t gives you a sense of security whey they accompany you"
– Anonymous "Friend" (immigrant seeking services)
New Sanctuary Coalition