"The core of what we do is in bringing people together to solve problems that are complex, that nobody can solve on their own."
– Kate Vickery
Executive Director of HILSC
To effectively allocate resources, build community power, and coordinate efforts to support immigrants, "convener" organizations play the vital role of bringing grassroots organizations, legal and social service providers, and funders together.  They break down silos and offer a space for creative, collaborative work to increase access to knowledge and services. 
Convenings can be a place for individuals to access information and referrals on essential services and benefits, as well as a space for impacted communities to share challenges within the current immigration ecosystem and offer community led solutions to address those problems.  At their best, convener organizations provide an opportunity for professional immigration service providers to engage with immigrants and their families outside of the client-provider relationship. Leveling this power dynamic helps communities hold service providers accountable and provides a platform to lead strategies to address injustice within the immigration system.
Convenings also allow organizations to operate outside of their silos, and tackle problems they cannot address alone. Through working groups and member-led committees, convener organizations identify gaps and opportunities within the immigration field, and develop collaborative solutions that increase efficiency, inclusion, and impact. Convenings can also provide an opportunity for impacted communities to flag areas in need of financial support.
A range of organizations and individuals provide services to immigrants. For the past years, many immigration organizations have been operating in emergency-response mode and are unable to prioritize big picture strategy and collaboration across issues and marginalized communities. Further, traditional service provider models focus on the individual, rather than supporting broader communities to build knowledge and to better promote their interests. Convenings are spaces to make human connections and develop transformative collaborations.
Organized Communities Against Deportations
OCAD engages in cross-movement building, collaborating with African American-led organizations, as well as those advocating  for tenants, workers, queer communities, and womxn. They strategically highlight the effect of inequality and oppression of the immigration system on day-to-day life of undocumented immigrants and the specific experiences of those at the intersection of marginalized identities. Through these convenings, OCAD seeks to create change that goes beyond band-aid solutions and addresses the interrelated and deep-rooted systemic problems.
Currently OCAD is leading and working with a series of organizations around the elimination of the Chicago Police Department Gang Database. Campaigning efforts revealed that the gang database was a tool of criminalization for brown and black communities. OCAD also leads the Chicago Working Group that seeks to eliminate city carve outs or exceptions within the sanctuary policy. OCAD is also part of the Albany Park Defense Network which connects deportation and evictions as a form of displacement with their partner, the Autonomous Tenants Union.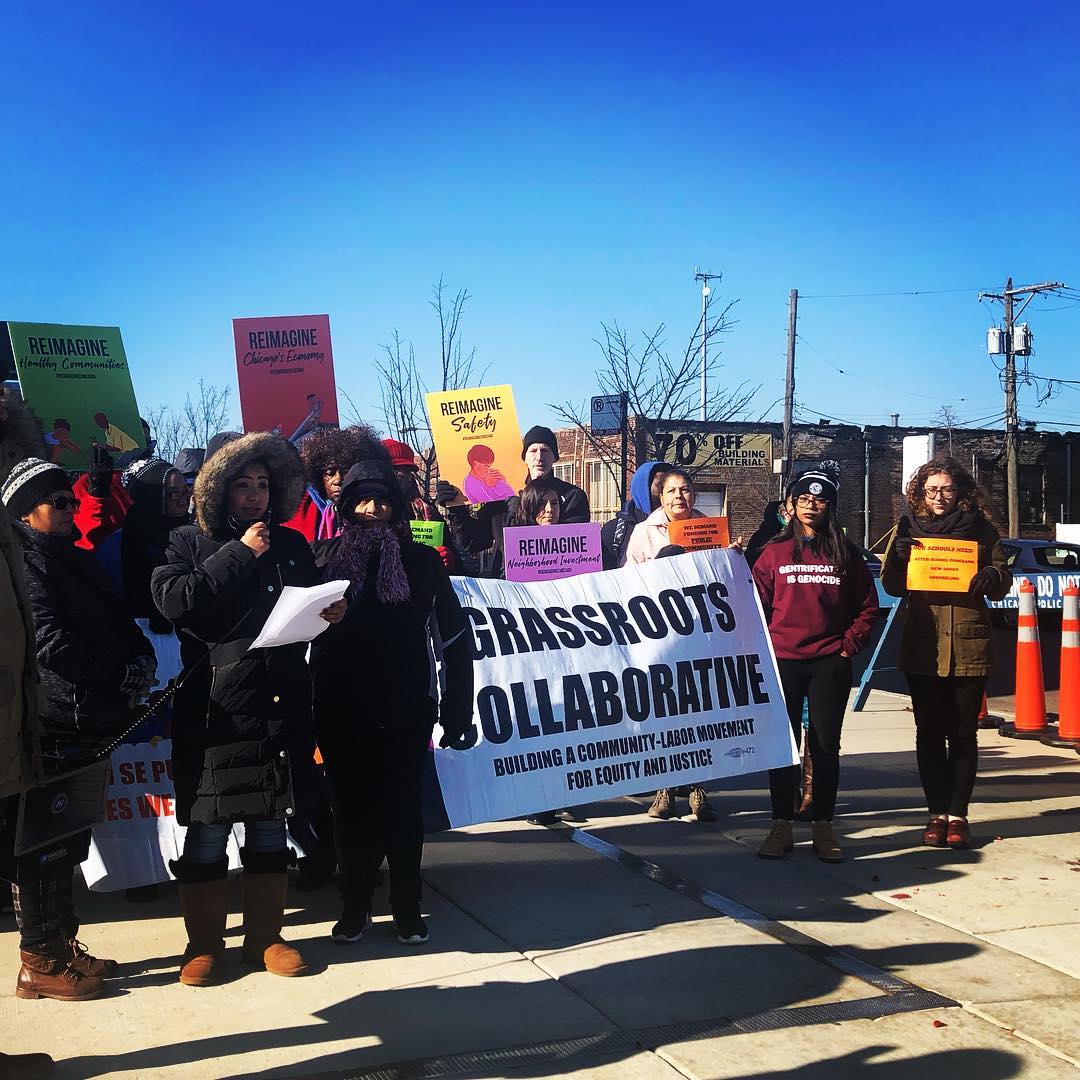 Mayor's Office of Immigrant Affairs (MOIA)
MOIA established ActionNYC, which serves as an entry point into immigration services for many New Yorkers. ActionNYC identifies gaps in services for immigrant New Yorkers and connects them to partner organizations that can offer language-specific legal support. ActionNYC also provides opportunities for its partner organizations to meet and share best practices to better enhance legal services provided to all New Yorkers. MOIA also convenes town halls in which city bureaucrats and leaders interact with immigrant communities and hear their concerns.
MOIA coordinates international convenings of cities to address immigration, refugees and asylum seekers. One convening helped shape the Global Compacts on Migration and Refugees, and another led to the Marrakech Mayors Declaration "Cities Working Together for Migrants and Refugees." By bringing cities into large international conversations around migration and refugees, MOIA is able to insert local voices into otherwise hierarchical processes.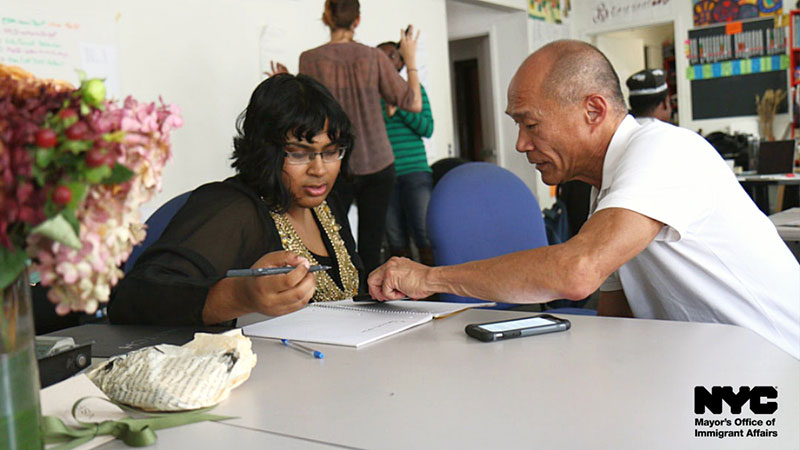 Immigration advocates network (IAN)

Houston Immigration Legal Services Collaborative (HILSC)
HILSC creates Working Groups that bring together legal and social service providers, grassroots organizations, and funders within the Houston metropolitan area to focus on issues impacting immigrant communities. These include Access to Services, Asylum, Crime Victims, Detention, and Community Outreach/Know Your Rights. The Working Groups function as think-tanks and facilitate trust-building and collaboration among their stakeholders. The Working Group members develop and often launch projects that holistically respond to community needs. For example, the Pro Se Asylum Assistance Project seeks to improve access to legal services for asylum-seeking Central American families in removal proceedings. Deportation Defense Houston brings together a cohort of four partner organizations to provide detained representation, and the Immigrant Rights Hotline serves as a gateway to essential information and referral services. 
HILSC convenes a Grants Committee, a participatory grantmaking initiative for members to draft a call for proposals on specific gaps in services, evaluate grant applications, and select organizations to receive the grants. With its most recent grantees, HILSC plans to organize a collaborative evaluation process to create community learning and sharing of best practices. 
HILSC works with public and non-profit social service providers about how to break down barriers for immigrants without legal status. After Hurricane Harvey, for example, HILSC began working with more than 40 agencies to develop its Humanitarian Action Plan, a disaster preparedness plan that focused on equitable recovery for immigrants, regardless of legal status.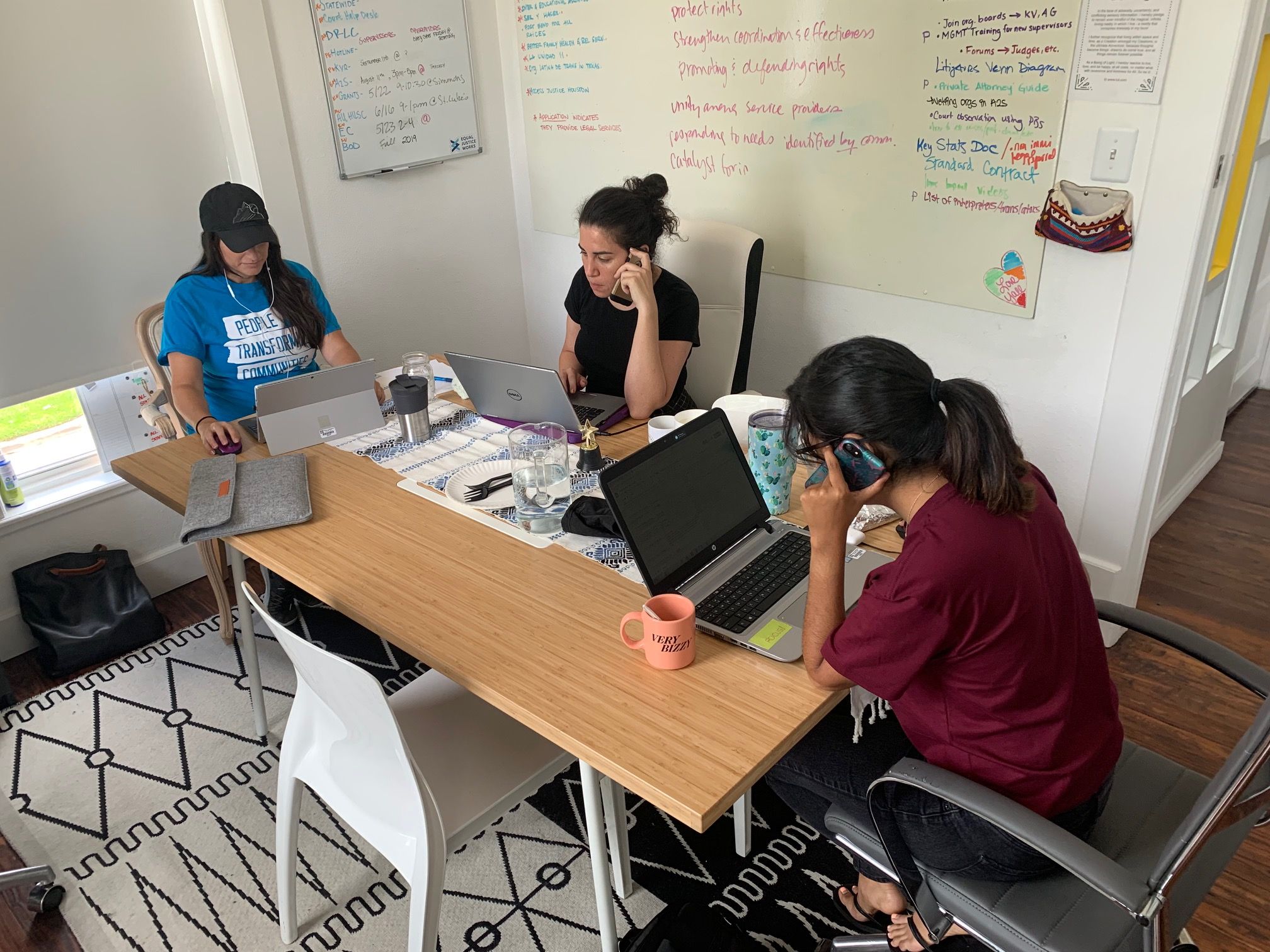 Esperanza Immigrant Rights Project
Esperanza convenes a number of Los Angeles organizations into an Unaccompanied Minors Collaborative. The Collaborative includes legal service organizations, mental health providers, anti-violence projects, cultural organizations, and other stakeholders that support unaccompanied minors. The convenings provide space for organizations to develop skills, such as recent trainings on working with survivors of trauma and the lens of linguistic diversity. The Collaborative also educates the community about the immigration system and provides knowledge that will combat fear within immigrant communities.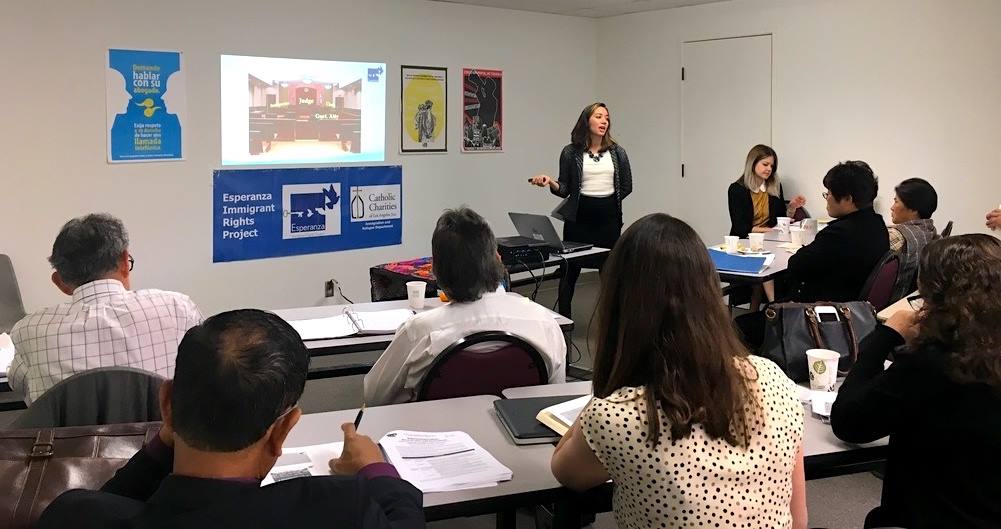 Convener organizations see the birds-eye view. Convenings connect organizations to better respond to communities' needs. In the words of Andrea Guttin, Legal Director of HILSC, "Creating a collaborative takes people out of their silos and gets them to think about their work differently. Without a coordinator or convener, it's hard to set aside the time to create those connections. A collaborative creates the space for people to come together and see the deficiencies in Houston's services and see how they collectively can address those gaps."