"We wanted to create a space where community members can receive accurate information about their rights and options. We see this as a way to build agency and knowledge"
– Evelyn Cedeño-Naik, Community Education Manager
Esperanza Immigrant Rights Project
"Pro se" is a term used for people who are advocating for themselves in court, without the representation of a lawyer. Pro se legal clinics help immigrants know and use available legal and non-legal resources to effectively advocate on their own behalf. At pro se clinics, a team of non-attorney volunteers, interpreters, and immigrant petitioners work together under the supervision of attorneys who provide free legal advice. At their best, these clinics place knowledge in the hands of impacted communities, and support pro se applicants to secure legal advice and, ideally, legal representation.
Pro se clinics also place citizens in close contact with non-citizens; fostering empathy and compassion, recognizing the humanity of each person above and beyond the categories the law imposes on them. Furthermore, because Pro se clinics are open to anyone with an immigration issue, they can be especially critical for immigrants who do not have a straightforward case that an attorney is willing to take. When systems fail people, pro se clinics are an important tool to empower individuals who persevere.
Research shows that immigrants who have representation and support are better able to raise legal defenses against deportation and have an increased chance of winning their immigration cases. However, 63 percent of immigrants facing removal proceedings are pro se; this statistic rises to 86 percent for detained immigrants. Pro se immigrants face an uphill battle in accessing their right to remain with their families and communities in the United States, and the number of people in immigration court who are representing themselves is on the rise. Lack of knowledge not only contributes to worse case outcomes, but serves to disempower and retraumatize marginalized communities. It is essential to create opportunities for people managing their own immigration cases to meet with lawyers, access accurate and up-to-date information, and connect with community members who can provide support to them during their case proceedings.
New Sanctuary Coalition (NSC)
The New Sanctuary Coalition of New York City (NSC) hosted a Pro se clinic every week.  The NSC Pro se clinic had an open door policy; all were welcome.  NSC called those who come to seek support "Friends." NSC relied on its network of trained, well-organized, multi-lingual, and committed volunteers to create a safe space where Friends fight for their right to remain in the United States. Friends first completed an intake form that helped an NSC volunteer attorney spot potential forms of relief and identify key dates, for example the date of entry into the United States and the one-year filing deadline for asylum.  After intake, the Friends joined teams of volunteers composed of a note-taker, an interpreter, and a volunteer with a laptop who filled out online forms for eventual review and submission. Additionally, volunteer attorneys floated from team to team to review forms, discuss the Friend's legal options, and explain the next steps of any given process. NSC maintained a database that provided volunteers with templates of common immigration forms and securely housed all notes and forms for each Friend.  NSC staff reviewed each file and the database every week to monitor progress and identify emergency cases. NSC staff frequently contacted volunteer attorneys to review documents outside of the Tuesday evening pro se clinic.
The NSC Pro se clinic was not limited to legal interventions. Friends worked with their volunteer teams to identify other areas in which they needed support, and a team of social workers maintained a table to provide information on finding employment, enrolling children in school, obtaining an NYC ID card, and to answer questions. Volunteers often supported Friends seeking permanent counsel.  In many instances, Friends had an easier time securing counsel after NSC has supported them to meet a filing deadline or to take first steps in defending against deportation and advocating for their right to remain. NSC provided childcare, donated dinner to Friends and volunteers, and homemade treats to teams throughout the evening.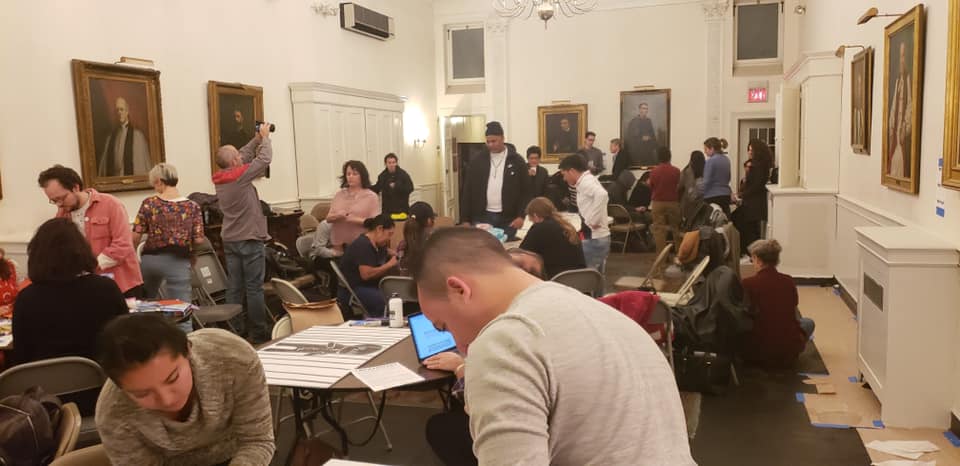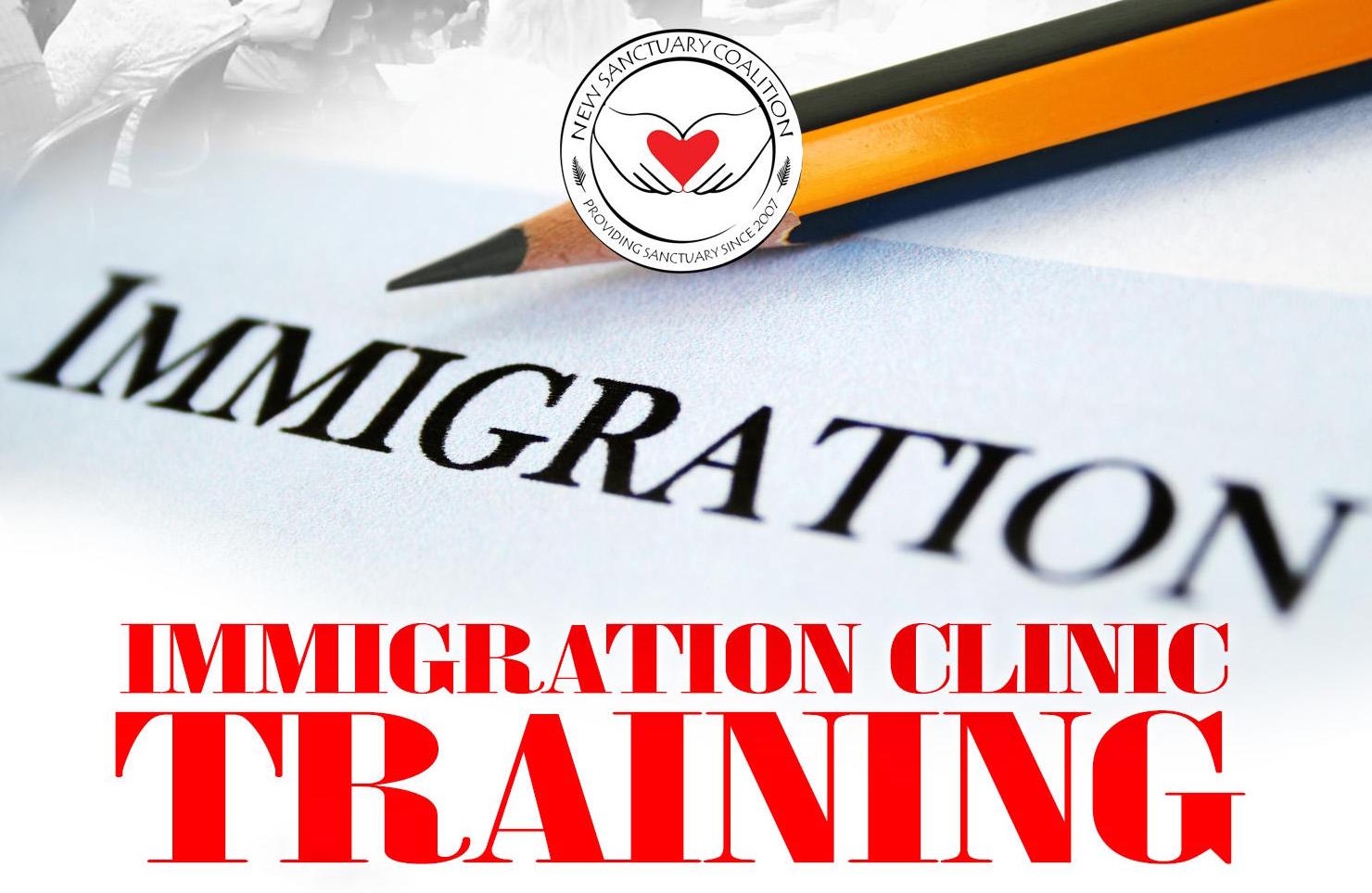 Esperanza runs Community Education for Released Adults and Families, a help desk that provides essential pro se legal support and services to immigrants in Los Angeles, California. Since 2016 more than 6,000 immigrants and their families have participated in the program. Community Education for Released Adults and Families strives to be a space where immigrant communities can receive accurate and timely information about their rights, legal options, and access to benefits. The program staff think deeply about how to provide quality support to pro se immigrants in the various stages of a case, from an initial motion to laying the groundwork for future appeals.
The help desk meets people where they are, with walk-in hours offered two days a week within Los Angeles' main immigration court and a third day in Esperanza's office. Immigration judges, ICE, and ISAP agents, and other non profit organizations regularly refer pro se immigrants to the help desk, and information about the program is included in all initial hearing notices. Community Education for Released Adults and Families is staffed by a full-time attorney and a legal assistant with support from pro bono lawyers, law students, and Spanish speaking volunteers. 
Community Education for Released Adults and Families offers an orientation program to all immigrants seeking support. The orientation provides an overview of the court process, including information and resources on the major actors involved in the immigration system. Following an orientation, individuals participate in a one-on-one consultation with a legal team member to discuss their case and assess potential areas of support. Those with asylum claims are invited to an Asylum workshop which is divided into two parts: 1) overview on asylum process and 2) preparation of the asylum application. The overview workshop happens twice a month with approximately 40 people and aims to empower impacted communities with knowledge about the asylum procedure. The second workshop prioritizes individuals who are either approaching their one-year asylum deadline or an immigration judge deadline. Every month, around thirty individuals are invited to attend this workshop to complete their application. Spanish speaking volunteers assist individuals in the preparation of the biographical sections of the application, while a team of lawyers and law students assist individuals fill out the more "legal" elements of the application. The help desk also runs a workshop on employment authorization and relies on active participation of immigrants to fill out their own forms to build knowledge and agency.
Community Education for Released Adults and Families responds to the evolving needs of the community. For example, consultations revealed an increasing number of immigrants unable to remove their private attorneys from the record because predatory attorneys required payment before filing the requisite paperwork. In response, Esperanza created a pro se "motion to withdraw representation" and supported individuals to file such motions with significant success.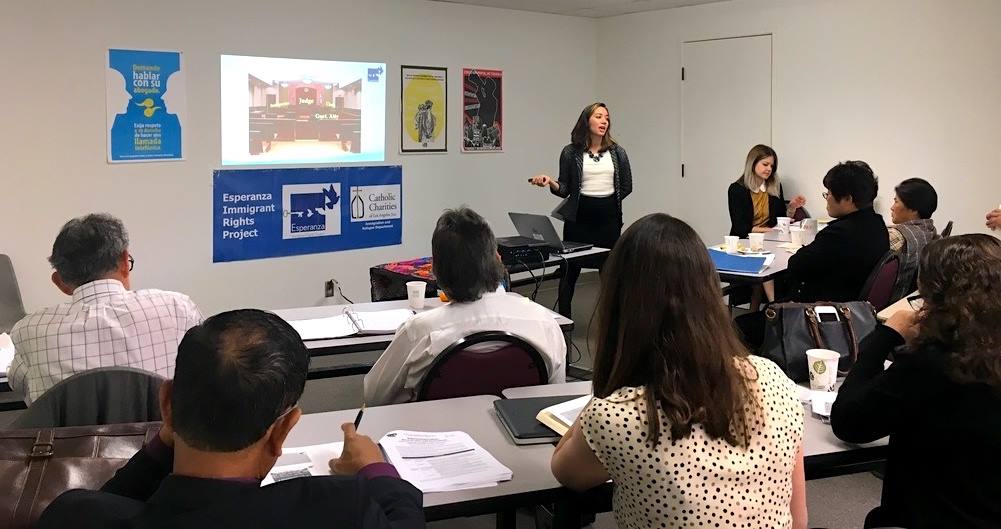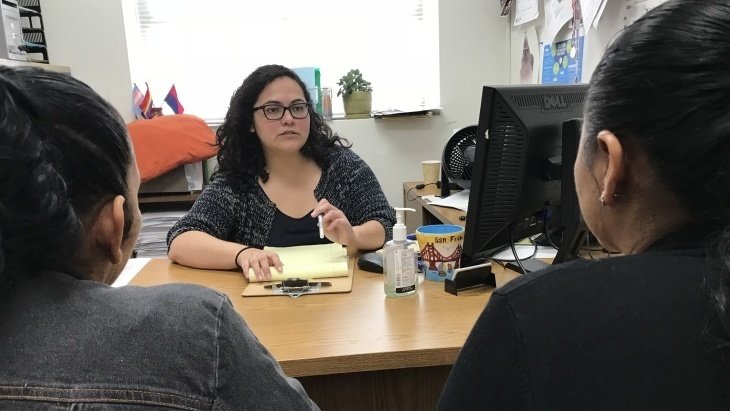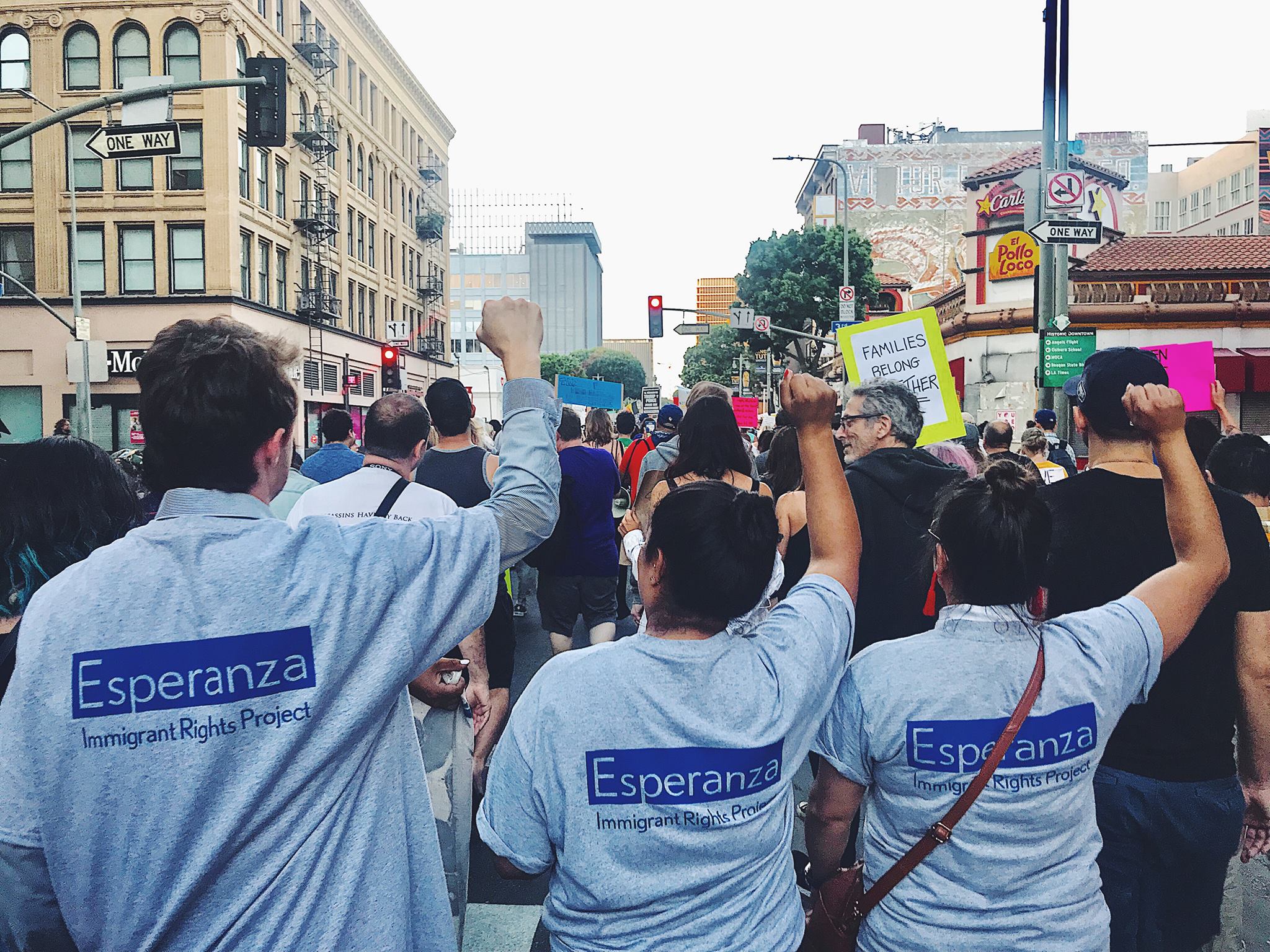 Every month, Law Lab's Defend Asylum clinic in Atlanta begins a legal orientation with a difficult truth: no one seeking asylum before the Atlanta immigration court should expect to win. Atlanta's immigration judges deny practically 100% of asylum claims. The one thing that Atlanta's Defend Asylum clinics can offer people is "time." Learning to navigate the legal process allows people fleeing persecution to buy time to plan for their survival and maybe even safety. There is a difference between quickly receiving a removal order for a procedural technicality, and being empowered to move and change venue, or safeguard the right to present a claim and appeal the immigration judge's decision. 
Since January 2019, Law Lab has run monthly, volunteer-staffed Defend Asylum clinics, empowering people to navigate the procedural obstacles that threaten to undermine their right to a day in court. The clinics identify those individuals at greatest risk of receiving a removal order and serve them first. In its first year the Defend Asylum workshop received referrals from nonprofits in Georgia and bus stations across the US where advocates met asylum seekers en route to Georgia. Using Law Lab technology to triage for those individuals most vulnerable to deportations, Defend Asylum clinics helped 57 families stave off imminent removal orders and provided monthly legal orientations so that persons considering seeking asylum in Atlanta could make informed decisions about their next steps.
The clinics also serve as an organizing space. For people seeking asylum, their families, attorneys, and members of the community at large, the clinics are a space to take steps towards a more active role in organizing for immigrant rights in Georgia. A shared struggle suggests shared solutions and with the time gained, Defend Asylum creates space to name and explore those shared solutions.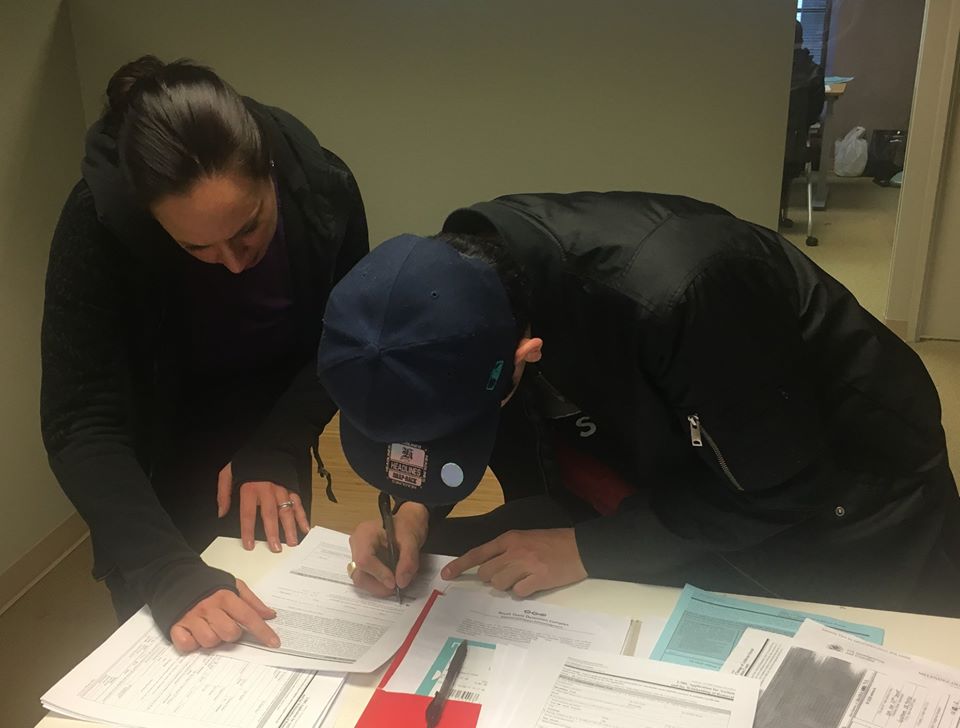 Pro se clinics are one tool that can be used to empower immigrants and help close the justice gap. While universal representation in immigration court is one strategy to achieve more just outcomes for immigrants in their cases, it falls short of addressing all the goals of legal empowerment. Legal empowerment demands that the power of the law be within the knowledge and influence of communities, so that they may know, use, and eventually shape the laws that impact their lives. Pro se clinics begin to address this power dynamic and shift agency to rights holders.
NSC and Esperanza have supported hundreds of immigrants to represent themselves pro se, and hundreds more to secure pro bono counsel. Pro se immigrants supported by Esperanza had a 75% success rate in their motions to reopen their cases. 
A Friend of NSC said that she went to five legal service organizations before she found NSC. The other organizations would not take her case because she had missed the one-year filing deadline for asylum.  With the support of NSC volunteers, the Friend submitted her asylum application, noting the extraordinary circumstances that prevented her from filing within one year. "Without NSC, I would live in great fear.  NSC is my family," she said.

A retired immigration judge who volunteers with NSC said, "NSC empowers everyone.  We are all watching—and taking note—of the injustices in this system. And this is necessary for change."
"I used to have a lot of wrong information based on the media and what people are talking about on the streets. After being part of the clinic, I know better how the immigration system works."
– Friend (Immigrant Seeking Services), NSC Clinic